CHARITY
We personally asked Esra de Ruiter to help us to find a charity as there are so many nice charities to choose for. We have chosen for DVB foundation. For each sold mask we donate €1,- to this foundation. We would like to thank Esra de Ruiter very much for this collaboration and we hope to contribute as much as we can to DVB foundation. We wish DVB a successful continuation of their good work!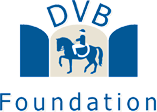 The goal of the DVB Foundation is to support therapeutic horse riding for riders with disabilities. DVB Foundation contributes to the physical and mental health of the rider. The board and all volunteers do their work completely unpaid.
PRODUCT INFO
- Cotton / Viscose / Elastan
- Includes nose bridge for a perfect fit
- Soft elastic ear straps
- Washable at 60º. Wash the mask 30 minutes at 60 ºC and use a small laundry bag while washing.
Note: Delivery time is approximately 1.5 weeks
The masks are not intended for medical purposes.